Tuesday, April 10, 2012
A Dinosaur With Integrity - People's Grand Tour day 18
We probably looked quite the odd couple this morning, Finn and me, him in camo combat shorts and hoody on a BMX and me in winter lycra and waterproof on my road bike. I often wonder whether people assume we're off to do a few miles of riding together in those differing kit set ups and think how hard Finn is or what a wuss I am. The mundane truth is that Finn was off to his friend's house for the day whilst Paula and I worked and Romie and Amelie rode the roller coasters at Alton Towers on an LEA organised trip. It's never one of life's greatest joys going back into work after a long weekend, but this morning was pleasant enough as work days go, my mood undoubtedly bolstered by the sunny skies visible from my desk which were an unexpected surprise.
The sunshine encouraged efficient working before heading out for the long ride home. The first part of my ride has been well blogged on Roulife, New Road, The Bobbington Grind to Six Ashes but today, when I reached the "T" junction a couple of km after Tuck Hill I turned right and outward instead of left and homeward. This way takes a rider down to the eastern edge of the Severnside village of Alverley via a steep descent with a nasty, sharp left hander a the bottom - if this stretch of downhill is used in a race or even a sportive it always has it's own Marshall towards the bottom. Once that left bend was negotiated safely today I turned back on myself almost immediately, now climbing towards the village of Romsley (this is also one of the more common mispellings of my daughter Romily's name) on a
long ascent running parallel with the River Severn a kilometre or so West. As ever the steady (and quite long) climb is followed by a pleasant drop back down at to another tee junction where I head back homeward via The Sheepwalks which is a narrow lane that starts with a 15%ish kick, then rolls upward at a 3 or 4% gradient for a few hundred metres before a last leg-sapping rise of only around 100 metres at 8 or 9%. It's always great to crest that last bit, even on the day a few years back when I ploughed headlong into the local hunt and found myself surrounded by a pack of hounds and horses. From this point forth the road winds generally downwards, albeit over some rather badly broken surfaces, until re-joining the route I would have been on if following my more regular Tuck Hill route. Overall today was absolutely gorgeous weather for cycling. For me it was sunny and dry, even though on some short stretches I was clearly riding through an area that had been subjected to a heavy rain shower minutes earlier. Indeed from a couple of the higher points I could see dark clouds and rain storms on the horizon in all directions, so I was well blessed to be showered only in sunlight for almost all of my journey.
En route to The Sheepwalks I pass by a beautiful stone cottage perched on the inner curve of a hilly bend in the lane. Sometimes, outside the gate which is a few
dozen meters back at the foot of the hill (see photo), a Wolves flag flies, although not today. This is the home of one Robert Anthony Plant, former Golden God and the archetype upon which the accepted image of a "Rock Star" is based. I love Led Zeppelin, and although I would love to be in my twenties again I'm glad to have grown up in the seventies when rock stars still had mystique. One reason for that is we didn't see their images on websites and in newspapers every day, in fact daily papers rarely "touched" popular music in those days, rock and pop gossip columns were born in the eighties. Music was also one of the main forms of entertainment, a source of rebellion (for me at least) and it also defined you to some extent. Nowadays I realise that loving music back then was also about a sense of community, the experience of going to a record shop with your friends, browsing, chatting, staring at that Led Zeppelin IV in lilac vinyl (and not realising
that you'd still be regretting not buying it 35 years later), then poring over the album cover, sleeve notes and lyrics on the bus home, wondering what the songs would sound like. That's all gone now, and although I love being able to hear a song I love on the radio (an increasingly rare experience to be honest), to Shazam it and then Spotify the song and it's album mates into my ears almost instantly, I realise that this is somehow a less satisfactory experience.
Some of Planty's post Zep output has left me cold, I didn't much like the Raising Sands album for instance, even though it received widespread popular acclaim. But I will always admire him for refusing to participate in a full scale Led Zeppelin reunion, because we all know that the ONLY good reason for that would be money. Musically the legend could only be tarnished, although arguably the band had already started that process in the mid seventies culminating in the most unZepesque "In Through The Out Door". Nevertheless, to turn down the lorry loads of money a Led Zep tour would generate takes balls in my opinion, but more than that it takes integrity. He once told a friend of a friend that "I make a hundred grand a year without getting out of bed, just from Stairway To Heaven royalties", but it's so unusual, and refreshing, to hear of wealthy people who know that they've got ENOUGH. Personally I can't understand why a banker on a couple of million pounds per annum plus the same again in bonus wouldn't work a year then retire. But then I'm not wealthy so am not in a position to judge, nor do I particularly love my work (but I don't hate it either). Robert Plant on the other hand is a wealthy ex dinosaur (should I attribute that misnomer to John Lydon?), but he turned down Led Zeppelin for purely musical and personal reasons when he could have made himself much more wealthy. He's also a really nice bloke AND a die hard Wolves fan. I'd call that integrity.   
Monday, April 9, 2012
Apocalypse Averted - People's Grand Tour day 17
It was certainly a wet ride today, but the rain never quite reached the Biblical levels we expected based on Met Office predictions - I was certainly pleased not to have panicked last night and built an Ark. So uninspiring weather spawned an equally uninspiring route choice - yesterday in reverse (the easier way). In spite of the steady drizzle I quite enjoyed the grind from Bobbington to Tuck Hill, although the weather seemed to briefly affect my Garmin which was showing a 0% gradient when I was on a slight upward slope, dived to -3% as the road kicked up a little more, then just as I hit the 3 to 4% section it jumped to a dizzying 20% before eventually settling down to more realistic readings. Overall the legs felt good, as in better than yesterday, but not great. Which was better than expected.
Although I joined Strava many months ago I've never really used it on a regular basis until joining the People's Grand Tour Club which Lionel Bernie set up for us
PGTers to record and compare rides. Whilst I haven't made much use of the club element of the site, I don't even know if there is anything special there, I have really enjoyed the standard stats, especially the "Segments" feature. I have added one of my regular hills into the section myself, but generally I love uploading a ride and then discovering that I've ridden a "Segment" that somebody else has added. The highlight of this rider for one stretch of road that I ride regularly and, better still, that I know the guy in second place and that he's a pro cyclist. Of course in all likelihood I was hammering it in front of a ferocious tailwind on the day that I rode it whilst he was
probably using having a recovery day on a unicycle with his grandma, but at this point the fact still remains …… Still, even without such cold and out of context statistics to bolster my frail ego, I've come to really enjoy using Strava. Once, briefly, I even considered paying  for the Premium service so that I could compare stats by age group, weight etc. As I said, that was just briefly.
There were a couple of other things that I learned today; Firstly, French teenagers are very much like British teenagers. They don't live entirely on fresh fruit, healthy food and Perrier, but enjoy chips and Pepsi and chocolate. Furthermore they don't stare longingly at pictures of Thomas Voeckler and Pierre Rolland all day, counting the seconds until the Tour de France begins, but think about films, musicians and shopping (the latter explaining why I ended up spending some of Easter Monday at the Merry Hill Shopping Centre). Cycling is not a consideration, not even a faint blip on their radar. Secondly, high street shops have no sense of proprietary when it comes to inappropriate use of "cool" images. It's probably me, or my age group, and the concept of "sticking it to the man" that I grew up with in the seventies, but when I see bog standard, chain store clothes shops selling tee shirts with pictures of Johnny Cash and Miles Davis on them, I just want to hurl. Presumably the estates of those masters of their craft know about this and are being remunerated, but I remain convinced that the vast majority of people who buy those shirts will never have heard, nor indeed heard OF, those guys. It's a failing of mine that I find that offensive, but I do and probably always will, although with Ramones shirts (but not their records) mainstream, and Guns and Roses, The Stones and MANY more selling their images to the High Street, I may end up getting reluctantly used to it.
To exorcise this grumpiness tomorrow's ride will have a major league rock n roll WITH INTEGRITY theme to it.
Sunday, April 8, 2012
Staccato Cycling and Princes of the Realm - PGT day 16
With Amelie, our French visitor, safely arrived, and Paula due to go out briefly at 8.45am, an early start for an hour of riding was a necessity today (the afternoon will be written off for anything other than watching Paris Roubaix of course). The chosen route was broadly the one that I rode last Sunday, although mercifully without broken motorcycles scattered all over the road at Six Ashes. Unfortunately the gnawing irritation of a creaking spoke eventually broke me and I stopped to try and find, then cure, the problem. Although it transpire that the cure was as simple as tightening the quick release lever, I had stopped several times before happening upon the solution. This broke the rhythm of the ride somewhat giving the first half an hour or so a stop/ start staccato feel.
This route also takes me past Halfpenny Green Airport (I think it's registered name has recently been changed to Wolverhampton Business Airport), which was built in the very early 1940s as part of the war effort. More recently it's been used to station a police helicopter and Air Ambulance amongst the regular hobby and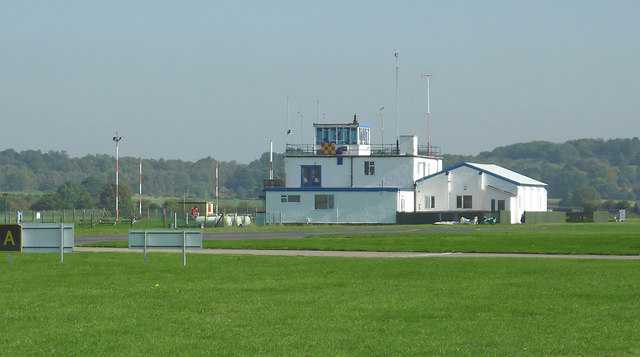 learner flyers playing in their Pipers and Cessnas, It's also used for 1940s weekends, which are quite fun, and up until the early seventies an annual air show was held there. The latter event didn't survive long after Prince William of Gloucester (ninth in line to the throne at the time) was killed there in 1972, his Piper Cherokee clipping a tree on take off and plunging to the ground then exploding upon impact. I remember watching the reports on BBC news main bulletins (there were no other kind back then) and being amazed and excited to see somewhere so close to home and so familiar on television. http://news.bbc.co.uk/onthisday/hi/dates/stories/august/28/newsid_2536000/2536275.stm 
There were no such fireworks during my ride today, my legs and mind felt weary. Possibly that's down to the early start, and eating breakfast less than an hour before riding probably didn't help either, but I reckon that I'm at the stage when a rest day would probably be benficial. However, with just five more days left on PGT 2012 I'm not going to take one for anything other than the most unavoidable logistical circumstance. From here I can manage the minimum hour five times I'm sure, although the rain that is forecast is not going to be a great help.
Saturday, April 7, 2012
Rainy Day Spinnin' #12 & 35 - PGT day 15
The Permadrizzle that had been in evidence since I first opened the curtains at 6am turned out not to be so perma after all. Within a few minutes of setting off the air was dry, even if the roads remained wet, but my "joy" at that situation was abruptly cut short when I realised that I'd forgotten to put my Lezyne frame pump back onto the bike. Mercifully I appear to be in the midst of a chain losing phase having finished last summer with a spate of pu****res, but even though I was only on a short spin out today and knew I could rely on my wife to come and rescue me if required, I was unnerved by riding without my pump.
My chosen route today was the reverse of my usual 1 hour(ish) post work commute home. Some weeks I will do the clockwise version of this ride every day, but doing the anti clockwise version is quite a rarity - and it also feels like the
easier route. So it was a pleasant change, although some of the lanes are very much farm traffic only type roads so were a bit nerve wracking given the pump situation. Not long after riding that little hill pictured in Ludstone I "bumped" into one of my oldest mates and most frequent riding buddy, Jon Swift. He too was slotting in a short ride and with him the last half an hour or so of my ride passed at a slower speed but in a far more sociable manner. Interestingly Jon was telling me that he's been off the road bike for a few weeks, but to compensate has been going to a Spinning Class with his daughter. He was, however, bemoaning the fact that his fitness now that he's back on the road appears to have deteriorated more sharply than after being layed off from exercise altogether, and that the muscle bulk on his legs has also diminished. I've always thought that spinning and cycling were very different beasts, I confess to having NEVER tried the former, and will trot out this anecdotal evidence as proof of the fact whenever I need to to!
So a bit of good company was a refreshing change and made the ride home more enjoyable. Better still the bike wasn't terribly dirty and so didn't require too much effort to clean down, but now I must remember that as soon as I press the "Creat Post" button I really must dash off and put the pump back onto the bike! 
Friday, April 6, 2012
Sedgley Bonk and Club Day at Fred's - PGT day 14 
Who cares about the cold when it's beautifully sunny and a bank holiday to boot? Friday is "Club Day" at Fred's when team members who can make it turn up at the shop, make coffee and hinder the staff's efforts at making a living. Obviously this is never a full turn out as most of the team have proper jobs, so we're talking about shift and flexible workers as well as skivers. I'm not entirely sure which category I fall into! 
Today being Good Friday it seemed appropriate to attend Club Day bearing gifts of
an Easter nature (small chocolate eggs). Although it's obviously not a requirement many customers do have a habit of taking cakes, biscuits etc into the shop to keep the energy levels of the lads high, and in my case when I do so it's usually a small token of thanks for a gear tweak here or a spoke change there. This for me is the big argument against internet buying which sets cycling apart from music, games, clothes etc. Simply put it doesn't matter how much money you spend shopping at Wiggle, if your rear derailleur breaks on the morning of a race or club ride they ain't going to help you out. But the friendly faces at the local bike shop will ALWAYS look
after their customers, and the unquestioning "emergency bail out" service is worth a lot more than the few pounds you may have saved using online retailers. Please note the "may" in that last sentence because in most cases I find that Fred's and their virtual
counterparts aren't as far apart in price as some advocates of web shopping would have you believe. Not to mention the facts that I'd never buy a bike without riding it first and that you can't buy Fred's ace Provision made kit online.
Today my easy ride route took in the climb from Wombourne to Sedgley, Sedgley Bonk as it's known locally and colloquially, which winds up through Gospel End and rises about 130m in 3km (with a bit of downhill and flat in the middle). From the top it's a nice steady descent to the outskirts of Wolverhampton. Without pedalling hard 35mph is fairly easy, 40 possible, and there's a speed camera half way down which I always hope to trigger (30mph zone). I've heard tales of cyclists setting speed cameras off but wonder how they know because in daylight there's nothing for the flash to reflect back off indicating that it's "got you". Anyway, after dropping in at Fred's and a bit of "urban" through Wolverhampton city centre I headed home via Codsall (stopping off to pick up algae wafers for our Bristle Nosed Plec) and Pattingham. A short, slower day that was not too taxing on the legs, and here endeth week two. Week three is likely to be the most logistically taxing as we are being visited for the next few days by a French exchange student which shifts my priorities somewhat, so there may be an unavoidable rest day or two …….. but que sera, sera.
Thursday, April 5, 2012
Floppy thermometers - People's Grand Tour day 13
It was still jolly cold on the morning of Thursday 5th April 2012, but at least the wind abated considerably overnight leaving cold air, grey skies and damp, twig lined roads. Although my temperature gauge showed that it was only about 2° at 8am, it didn't really feel THAT cold, not like on a crisp, sharp morning in January. When I
notice this clash between the temperature reading and the "real feel" I invariably end up thinking about Salvador Dali and the elasticity of time - how sometimes an hour can seemingly go by in the blink of an eye and in another situation can feel like a whole day. This was a recurring theme in Dali's work, along with decay (ants) and sex (all sorts), but there is something pleasing to my eye about the melting, floppy watches/ clocks he uses to represent it. On days like today I wonder whether, had he lived in Britain, he may have chosen to use floppy thermometers too as an illustration of the elasticity of temperature but perhaps, as a Catalan, such considerations rarely troubled him. The Persistence of Temperature doesn't QUITE have the same ring as The Persistence of Time.
I shouldn't forget that the British team had another World Record breaking day at
the Track Worlds in Australia. Great riding and hopefully preparation is bang on schedule for the Olympics (as opposed to having peaked a bit early). Well done to Laura Trott, Jo Rowsell and Dani King who stayed cool, calm and collected, stuck to their plan when their Aussie rivals pulled ahead and reaped their due reward at the finish. Chapeau girls.
Back at the riding it was a 60 plus k day with over 700m of climbing and, although enjoyable, my legs weren't quite as good as they have been over the previous four or five. They lacked the zip at the tops of hills, encouraging a slower build up back to cruising speed rather than a harder, out of the saddle acceleration. So I plan to be more restful for the next day or two, shorter and slower rides until that "zip" comes back. I also managed to flip my chain again today for the third time in two days, the chain skipping over the outside of the big ring as I changed up from the small. Minor adjustment required methinks, although there's nothing like getting the chain back on whilst still riding for generating a warm, smug and self satisfied inner glow, although a time when a rolling chain replacement went wrong remains fresh in my memory! Anybody who has ever used the quick links on their chains can attest to how difficult they can be to separate to enable chain removal. However, one cold Sunday morning I was on a Wolverhampton Wheelers club run and lost my chain on a long, steady descent on Cannock Chase. I leaned down to pull the top of the chain back onto the top teeth of the chain ring but as I touched it the quick link came apart and the chain flopped lifelessly onto the road. Unable to find the missing link I spent the next 10 minutes repairing the chain with a multi tool chain breaker, which did the job but was murder on my fingers. Since then I've switched to a different type of link that needs a special plier type tool to undo.
Finally, it should not go unmentioned that riding back to, and home from, work this afternoon I was accompanied by the sun for the first time in a few days. That's always good for the soul and uplifting. How about an all day ray-fest tomorrow to make for a really excellent Good Friday? 
Wednesday, April 4, 2012
Sprung Spring recoiled - People's Grand Tour day 12
Gales and snow in the Midlands today prove that although Spring sprung last week, it didn't really establish itself. Still, at least I get an opportunity to catch up on some of the winter riding I missed whilst convalescing. I was also awaiting a call to notify me that I could go to a customer's office and collect an outstanding cheque this morning which, combined with the challenging weather meant that today was always going to be a fairly short day cycling wise. Furthermore I was never going to stray far from the tried and trusted commuting routes, so for today's route see yesterday's although with the more gentle waft of snow on my face rather than the painful ping of hail.
Any hope of mother nature relenting by midday was futile, and in actual fact it was colder for the return journey. Somehow most of us cyclists have a habit of making the best of such conditions, enjoying the discomfort and firmly believing that such suffering puts us more closely in touch with our cycling souls. Except on the days when we opt out of riding in such inclement conditions of course, then we're sensible people and those cyclists who venture out in it are fools. Today was a soul finder for me, and two thoughts regularly occurred during the commutes - firstly how glad I was not to have deep section rims on my wheels and secondly how awful to ride, but exciting to watch, will Paris Roubaix be if these or similar conditions hold throughout the weekend? Actually I'm not very proud of the second of those, it's almost macabre to wish such conditions on pro racers who will be riding flat out on the most testing of parcourse, it would be utter carnage riding the Queen of the Classics in gale force cross winds. 
Away from the weather though it was fantastic to see the GB Team Pursuiters win a gold at the
track Worlds and in a world record time. The only slight downside was that our local hero (and Fred's member) Andy Tennant felt that, after riding the qualifier, his legs weren't quite as they should be and stepped down for the final, took one for the team so to speak. I was proud to see that any disappointment in not riding the final didn't stop him celebrating trackside after the win, because he knows and WE know he was still part of the team and part of that gold medal. Chapeau Andy, the Olympic dream is still alive.
And thanks to the Eurosport Player too - between that, Sporza and http://cyclingfans.com/ there's no need for this cycling fan to miss any race action whilst sat at his desk.
Right, bring on tomorrow - better weather I hope and a trip to the dentist for a brief check to see that my swollen gum is healing (it is but why let such a fact get in the way of an excuse for a bike ride).
http://app.strava.com/activities/6202256
http://app.strava.com/activities/6202260
Sorry about the double ride data - for some reason I reset the Garmin when I got to work, so there is a file for each journey today.
Tuesday, April 3, 2012
Beyond Halfway - People's Grand Tour day 11
Another shorter ride day marked passing the halfway point of The People's Grand Tour 2012. Quite simply an out and back on my 14.7km medium commute, although I added in an extra little bit (the climb of New Road) on the return. As far as I can recall today is also the first day of the PGT this year that I've had to use my Pinarello Angliru, now my wet weather bike equipped as it is with Crud Road Racer mudguards. Although a bit uncool mudguards are a Godsend for the commuting cyclist, especially on days when it's not necessarily raining but the roads are wet, making the difference between arriving at work comparatively dry or with a soaked bottom. It's worth adding at this stage that I don't change when I get to work, so arriving dry is rather useful. Unfortunately the guards offer no protection against the pain of tiny hailstones raining down onto unprotected ears as they did halfway up New Road today. With no shelter to speak of it was a case of simply riding one handed and using my left hand to protect my face from the driving hail, whilst considering that just a few days earlier I had ridden up here in short sleeves and shorts without knee warmers under very warm sun!
New Road is a steady climb of no more than a kilometre, and has the unusual distinction of passing between 2 competing golf clubs, the long established
Swindon GC and the upstart Halfpenny Green GC. If my recollection of my brief flirtation with golf a few years back is correct, the road takes us down along the ninth green and then the 10th to 12th holes at Swindon, which I still think of as a really lovely course to play. Because it's mature and quite hilly it's easy to become disorientated and lose track of the direction of the clubhouse. This is a good thing in my opinion, but was often offset by some poor course management - on one occasion I recall the temporary winter green on a long par 5 had been set nearly 200 yards closer to the tee than the proper hole making it a 300yd par 5! The Halfpenny Green club on the other hand is a work in progress. Originally farmland purchased by some Sikh guys who set up a driving range whilst they laid the course and built the clubhouse inside an existing barn. I haven't a clue how it is perceived by the people who play it, but I admire the steady progress that the owners have made in setting it up slowly, methodically and, I assume, profitably in an industry where a new course/ club used to change hands three times before becoming viable. Golf is now, to me, very similar to being a home and away Wolves supporter which I was for many years (mainly in the Bully era) - I can see the attraction but I don't miss it and doubt that I'll take it up again although I must confess that whilst cycling past two empty courses today in a hailstorm I did consider the benefits of a warm and welcoming nineteenth.
Back at the weather forecast, it would appear that today's wintry shower was merely an appetiser for tomorrow's more wintry and more numerous showers. As George Harrison once sang, here comes the snow (it's alright). 
http://app.strava.com/activities/6159798
P.s. The missing bit of my ride loop is a result of my forgetting to start the Garmin, doh!
Monday, April 2, 2012
Reamed and Ready For Pulling - People's Grand Tour day 10
This morning I opted for my 14km commute route. As ever on the first day of the childrens' school holidays I was late leaving. Even though I know it's coming the disruption to our normal routine always comes as a little shock to the system and usually I find my self unprepared for it, today being no exception. Of course once you're behind schedule fate conspires to keep you there, or to drag you back even further. Today it took me over 45 minutes to ride the first 5km of my commute, the phone continually ringing and forcing me to stop, unwrap a couple of layers and take the call. Self employment is fantastic for time flexibility, so if I'm done or on top of things I can usually go home, or for a ride etc. The "payback" for this is that I tend to have to be on duty all of the time, and once I'm within office hours I do feel a little obliged to take calls. On most days those calls aren't too disruptive, but at other times they can arrive in batches and leave you feeling like you're swimming in treacle.
Although a slight jolt to the usually smooth system, the first day of the school Easter holidays were not as big a shock as the aching gum that disturbed my sleep for an hour or so in the small hours of this morning. The recurring infection at the base of a lower rear tooth hadn't abated in spite of the anitbiotics I took yesterday, and although my face was swollen it had been generally painless, until 1.15am. I was very close to heading up to A&E by 2ish when the pain subsided a little, just enough for my tiredness to get a grip and take me back into a deep sleep which lasted until 6.15, a lie in by my normal body clock. Fortunately lack of sleep and anitbiotics seemed not to affect my legs which felt good all day, although again I wasn't pushing myself - I have to consider that I might not be as recovered from my cancer symptoms of last Autumn and my op in January as I'd like to think, in which case riding every day is probably a bit foolish, so riding hard would be gross idiocy. 
I've cycled to my dental practise in Stourbridge for may years, partly because it's an excuse to ride but also because the metabolism increase on the 10km or so ride home tends to help dissipate any anaesthetic in the gums very quickly indeed. "Freeze" was not required for the treatment today, the infected tooth is root filled and so is, to all intents and purposes, dead. The reamer, effectively a long, sterile push pin was deployed in an attempt to break through the base of the root canal and release the liquid filling my swollen gum. The hoped-for deluge did not materialise though, just a bit of seepage, so it's going to be a case of waiting for the antibiotics to work before the tooth goes the way of the car park and indoor skatepark just behind the surgery, although hopefully with a little less explosiveness!
Homeward was the reverse route of my journey TO the dentist last Wednesday 
(PGT day 5), taking in the 10% climb of Stourton Hill and the steady 8% of Camp Hill, both of which confirmed that my body is actually adapting to the antibiotics pretty well - I felt quite good on both hills. A light drizzle lingered in the air and, if the forecast is to be trusted, the next few rides may well be undertaken on a mudguarded aluminium Pinarello rather than a shiny white and red carbon one! I've enjoyed the long dry spell but we need the rain on so many levels, not the least of which is keeping the People's Grand Tour authentic - who ever hear of an entirely dry three week GT?
http://app.strava.com/activities/6105734
Sunday, April 1, 2012
Two Wheeled Vulnerability - PGT Day 9
Today was always going to be a short ride. With Paula at work and Finn at a sleepover I didn't want to leave Romie at home alone for too long as she was suffering with a heavy cold and needed mollycoddling. Furthermore I've had to start taking amoxycillin because the gum below the tooth that I'm having root filled has become infected and swollen up. I blame those antibiotics for a slight shortness of breath which kept my pace steady but to be honest I think I benefited from the lower exertion riding anyway, especially as I had time to enjoy the birdsong, glorious sunshine and fast increasing warmth (5° at the start, 12° at the end 80 minutes later). This route I do regularly before work if I get out of the house early enough, and is one that feels like an inexorable process of climbing (which it actually is overall, even though it does include some downhill stretches) to a peak, after a final short sharp climb, at Tuck Hill. From here it's a 2 or 3 km descent into the village of Bobbington, broken only by having to cross the A458 after just a few hundred metres. It's not a steep slope, probably averaging 3 or 4%, but it twists and turns and is great fun when ridden hard at around 45 to 50 kph. Conversely it's a real grind when tackled in the opposite direction and can be a real leg sapper.
Unfortunately the descent was a slightly sombre affair today. When I came to cross the A458 at Six Ashes I found the main road was closed and I was waved straight over the crossroads by a Police Woman. It always feels somewhat morbid to linger and stare at the scene of a road traffic accident, so I flashed over as quickly as possible and carried on homewards, but at a brief glance I'd say that there were 4 police cars, an ambulance (maybe two), a dented Ford Sierra and several vintage motorbikes, at least one of which was in broken bits on the road. I believe and hope that there was no fatality, but it's always a sobering experience to witness such a scene and reminds me of our vulnerability as two wheeled road users. Today it took my mind back 18 months to the time that my knee and shoulder put a dent in the wing and windscreen of a silver Hyundai S Coupe, the driver of which had shot flat out over a crossroads without noticing me in his "line of fire". When I look at the pictures of his dented car it's amazing that I walked away, and I still occasionally look at the mangled front fork on my Sestriere, which he broadsided, and consider how close that impact was to my leg and the effect that such a hit would have had on flesh and bone. Another blessing I count every day.   
Having looked at Facebook whilst writing this blog it would appear that today was "one of those days" for two wheeled travellers on the west side of Wolverhampton. Several Wolverhampton Wheelers, one group of which I crossed paths with in Claverley, took tumbles today it seems, and one was taken to hospital by ambulance. I think he's ok though, and I hope that the motorcyclist (or motrocyclists) who had come to grief earlier is also ok - in which case he's probably more pained by the loss of, or damage to, his motorbike than his injuries!
Take care out there folks.